I don't know how I did it without exercising regularly, but I've lost 10 pounds in 3 months.
Maybe that is not an incredible feat, given that my clothes still fit the same, and 10 pounds is literally a drop in the bucket from the figurative tonnage that I can afford to lose. It's a start, however, and a reinforcing one to keep me on the straight-and-narrow when it comes to making better food choices. Having to go on the generic equivalent of Zocor kind of puts the fear of Cthulu into you.
Anyway, I was playing Bejeweled after popping my homemade organic lean-beef meatloaf in the oven and thinking of the director's commentary to which I'd just listened on the special edition of "Titanic" for the first time. (I'm such a geek for director's commentary!) As much as I loved "Titanic" as a movie and appreciate James Cameron as a director, I couldn't help but thinking maybe the right-wingers have a point when it comes to their visceral disdain for anything "Hollywood a.k.a. limousine liberal."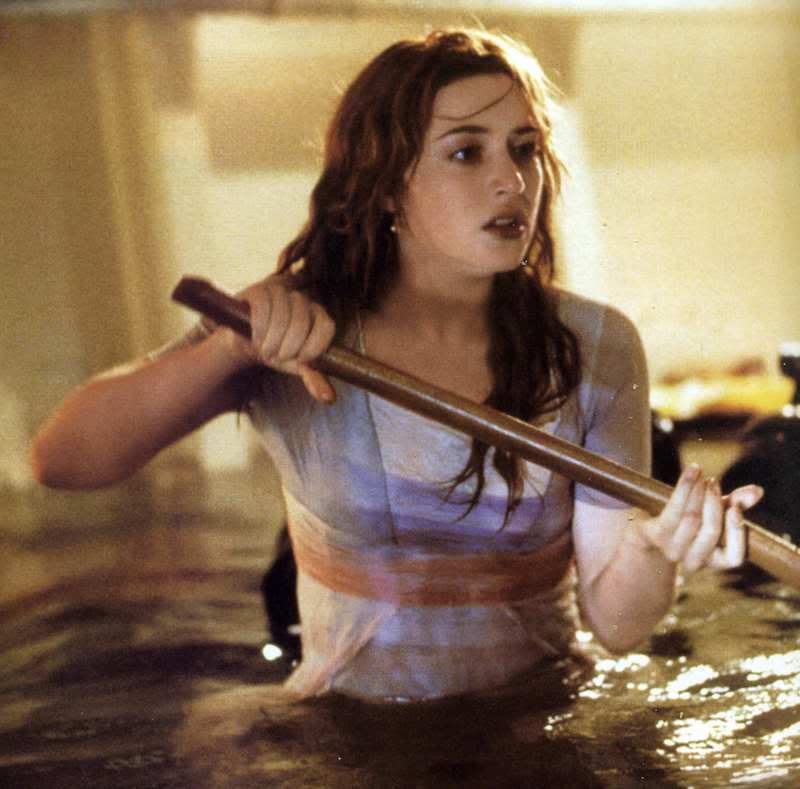 The overlying theme of the movie "Titanic," which is not an unusual one in a lot of films from the late '80s to the present, is that money and material things cannot buy people happiness in this life; it is the love of people around you and the pursuit of all that life has to offer that can give people true happiness. This is a beautiful and true ideal, but the movie, like many films like it, represents this theme in extreme terms. During Cameron's commentary, and even without it, when I watched the film for the first time in '97, I couldn't help but notice that the lives of ordinary 2nd-class passengers on the ill-fated Titanic's voyage were never touched in the film. With precious few exceptions (e.g. the first-class passengers who heroically--and with historical accuracy--chose to go down with the ship so that others would have a chance to live), Cameron and his cast and crew portrayed the wealthy as being either harmlessly aloof to the plight of the less-fortunate passengers among them or malevolently greedy or cowardly in their pursuit to stay atop of the food chain, at the expense of everyone else around them. Third-class passengers, on the other hand, were portrayed as most of the only foil of humanity and virtue to combat this crass elitism, whereas the "merchant class" that existed in the 2nd-class quarters were conspicuously absent. In reality, many 2nd-class passengers lost their lives or survived in the sub-Arctic waters to be rescued by the Carpathia the next morning, just as the upper crust and "steerage" passengers portrayed in the movie had perished or survived. Like a lot of things in Hollywood movies, there was no in-between in the movie's portrayal of events.
One of Leo DiCaprio's key scenes in the film is when his character praises the virtues of living life to its fullest and "making it count," even with little means. After his character perishes (whoops--was that a spoiler??), the newly-impoverished Rose of the movie lives on to a full, long life of silent-film acting, horseback riding, plane-flying, and pursuing other such dreams without a penny to her name. For 84 years, she hangs on to the priceless diamond necklace her ex-fiancé had left her, without even a thought of pawning it or even renting it to put a roof over her head and food on her table. When I was watching the movie again, I was thinking only in Hollywood can a woman in 1912 make her way in the world with no connections, no income, no family or friends given her relinquished identity, no nothing. (And how the hell did she make her way to California from Ellis Island to get into silent-film movie-making?) For the record, I still chuckle to myself when I think of that pawn-shop commercial with an older "Rose" jumping in after the Heart of the Ocean she just dropped, only to cash in at the pawn shop moments later. :p
Similarly, the excellent movie "Fight Club" explores the banality of living an IKEA existence, working for the Man and the dollar, and going insane due to lack of living a full life. Like "Titanic," the movie seems to communicate in extremes. There is no middle ground between giving up everything and "just going for it" and selling out to punch a timecard, drive to a nine-to-five job, and be generally pissed off with life. The film "American Beauty" conveyed a similar message, with a work-a-day family man who quit his stifling job and admonished his family's lifestyle of having too many possessions that were, in the end, "just things."
When I first watched both movies with my husband, I found myself getting pissed off at these movies. Like James Cameron, I'm sure, David Fincher and Sam Mendes don't live their lives squatting illegally in an abandoned house with a leaky faucet dripping on a magazine cover with Drew Barrymore's face on it. In fact, I suspect these directors and Cameron live their own lives even more luxuriously than Edward Norton's nameless character or the fictitious DeWitt-Bukaters of Pennsylvania. People didn't have Blu-Ray, HDTV, and the Internets back in 1912, natch.
So I can see where Middle American right-wingers clinging to their gods, guns, and government--and in these times, most likely struggling to make ends meet on paltry wages or unemployment--get pissed off when they hear multi-millionaires in Hollywood vicariously preaching to them via their movies that one doesn't need money to live life to the fullest. It's kind of hard to live any sort of life at all when one is working two or three jobs just to afford the mortgage/rent, electricity, utilities, food, and clothing for themselves and their children. It's true that money doesn't solve all one's problems, but it takes money to travel the world and the country, and to indulge in the fun things like a) renting time horseback riding; b) renting a plane; c) even putting gas in the car to do something free or cheap like hiking or picnicking.
There is truth in the core message of these films--that people can't find happiness only in material things, and that an abundance of money can and does corrupt ordinary human beings and can deplete the inherent value of human relationships with one another. Americans in general are too much in love with having what their neighbors have, even if they can't afford it. Everyone wants to get the boat, the golf-club membership, the SUV, and the granite countertops that cost up to $52 a square foot. However, life is not as simple as the nostalgic dream of packing it in, giving up on society, turning off, and tuning out. Especially if you have a family as the character Lester Burnham in "American Beauty" did, it is simply irresponsible to quit your job and cut off your family's income just so you can "be who you are" and satisfy your own ego when others are counting on you to help with their livelihood. These days, when two household incomes are needed just to make ends meet, that principle goes for women as well as it does for men.
Perhaps my ennui at these trite messages from Hollywood smack of a general resentment I have at not being able to break into the biz myself. Bitter, party of one, I guess! Since I was 19, I have worked within, and sometimes outside of, my means to write and sell screenplays. To Hollywood, to indies, to film students, to basically anyone who will consider them. This is something I've pursued with quite a bit of seriousness rather than idle dreams or wishes. Even with a full-time job, I've taken graduate-level coursework at two colleges and tried to build a network of fellow writers, producers, and directors to whom to call upon for referrals and productions. I've spent hundreds, perhaps thousands, of dollars in postage fees, printing costs, and other tools necessary to produce, print, and submit hard-copies of film scripts, of which I've completed six. (Thank the FSM for email, which many producers/directors/agents now use to accept submissions--and it's free!) I've read books--some crappy, some actually very valuable and informative--on the art, business, and practice of screenwriting. I've spent long hours letting a lot of "fun times" in my twenties and thirties go by the wayside so I could sit at my computer and just write--and do research. In short, I haven't just thought about writing or talked about writing to try to impress friends at the coffee shop--I've actually done the work. And have only optioned one screenplay short for $50 to show for twenty years of it.
During that time, I sacrificed a lot of energy, money, gainful career ambitions, and just plain time doing fun stuff that everyone else my age was doing so I could pursue the very lofty goal of making it as a screenwriter. And you know what? This is the ugly secret that Hollywood movies will never divulge to you, despite their wonderful New Agey stories of pop wisdom: sometimes, you can work really hard at your dreams and do all the right things--and even have the talent it takes to make it--but a lot of times, you just don't make it. So you have to have a pragmatic, and sometimes less romantic, alternate plan just to pay the bills, because face it--shit costs money.
I am not egotistical or self-centered enough to believe for a second that I am the only one who has done her/his homework, paid his/her dues, and put in the time to get ahead. I'm quite certain that, for every Ted Tally or Callie Khouri who accepts either an Oscar or a paycheck for a scriptwriting job well done, countless thousands or even millions of the rest of us get a flush letter--or enough of them to wallpaper a small building--and we still have to pay that cable bill and send our kids to school.
Sometimes, a self-defeating voice enters my head, telling me, "maybe you just don't have the talent, Michelle. Maybe your writing really
isn't
as unique and good as you think it is." Yes, I admit, sometimes I do feel sorry for myself, but then I move on, because I have to. Life goes on, and I have a husband and kids who need me, and there is still shit to clean up in this world that maybe I can contribute to instead of whine about. Y'know?
I just do the best I can, because as the old saying goes, I guess it is better to try and fail than to not try at all. But failing still sucks. It would help if a Cameron or a Fincher could have compassion for that, instead of making sanctimonious movies obliging us all to squat in buildings with leaky faucets, for a change. Maybe I'll just have to write a screenplay about the opposite of what they're preaching, just to fill the void. :p